CVC Employees give to Tejas Health Care
Tejas Health Care of La Grange was the recipient of a $500 donation from the Employee Charity Fund of Colorado Valley Communications (CVC) on Tuesday, October 25, 2016.
The Employee Charity Fund is comprised of voluntary payroll contributions which are used solely to support local charities. A newly elected Employee Charity Committee asked CVC employees to vote on a number of local nonprofit organizations to receive a donation from their fund. Tejas Health Care was the first organization chosen by the employees to receive moneys from the Charity Fund this year.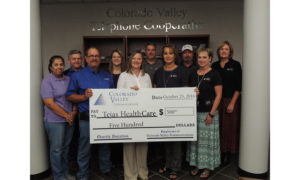 Pictured front row, left-right: Maria Barron, Mark Cooper, Sheri Kehler – Tejas Health Care CEO, Kay Loehr, and Pat Zbranek-Zigal –  CVC Asst. General Manager.
Back row, left-right: Kelly Allison – CVC General Manager, Angela Taylor, Wes Werner, Gary Becker, and Kathy Norwood.
___________________________________________________________________________________________________________________________________________________________________________