How To Setup Your @cvctx.com E-mail Address
In Outlook Version 2002 or 2003
POP Settings
| | |
| --- | --- |
| Incoming POP3 Server Name: | pop.cvctx.com |
| POP3 Login Username: | you@cvctx.com (your entire e-mail address) |
| POP3 Password: | Your e-mail password |
| Outgoing SMTP Server Name: | smtp.cvctx.com |
| *SMTP Authentication | must be enabled this is usually a check box |
| SMTP Authentication Username: | you@cvctx.com (your entire e-mail address) |
| SMTP Password: | Your e-mail password |
| SMTP Outgoing Port: | 1025 (You must modify 25 to read 1025) |
Open Outlook
After opening Outlook you will have one of these first few screens. You may need to scroll down this web page until what you on your computer matches the screen shots below, then continue instructions.
If the above screen appears, click Tools then E-mail Accounts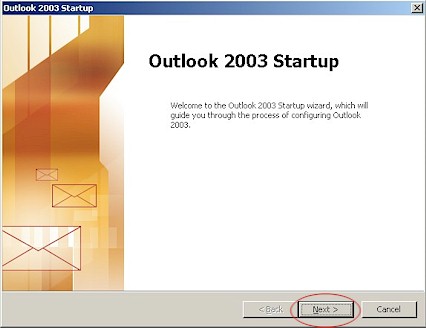 If this screen appears click Next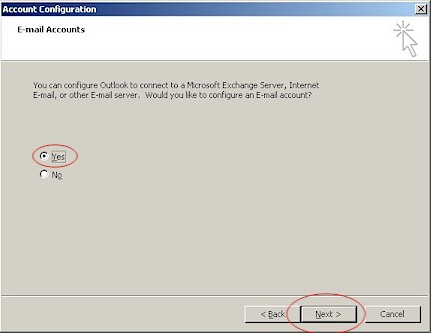 If you see this screen dot the Yes and then click Next
If you see this screen, dot the POP3 area and click Next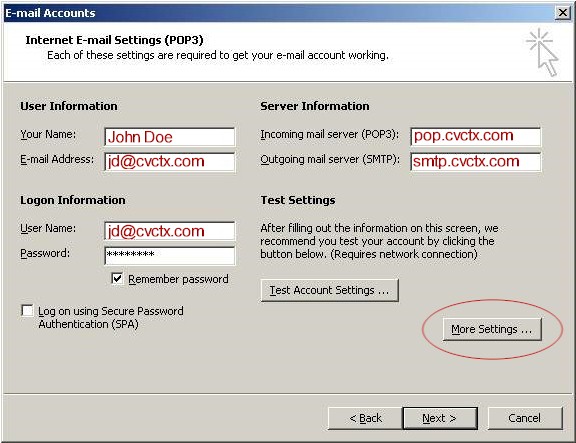 On this screen fill in the Your Name:
Enter your E-mail Address:
In the User Name: area enter your entire e-mail address and password below
For the Incoming mail server (POP3): enter pop.cvctx.com
For the Outgoing mail server (SMTP): enter smtp.cvctx.com
Now click the More Settings button
Type your full e-mail address in the box below "Type the name by which…"
Now click on the Outgoing Server tab at the top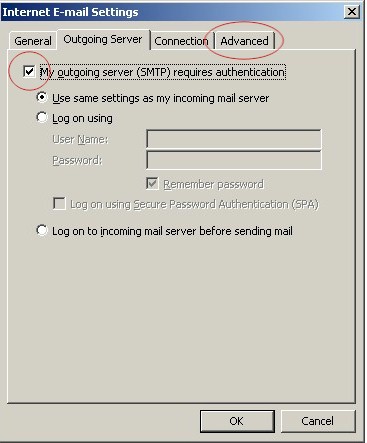 Place a checkmark next to "My outgoing server (SMTP) requires authentication"
Now click the Advanced tab at the top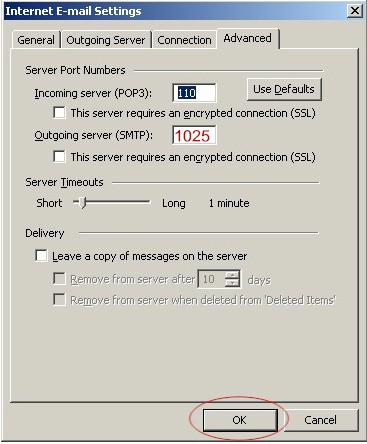 n the Outgoing server (SMTP): box enter the number 1025
Now press the OK button at the bottom
You are now taken back to this screen below
To test your settings click the "Test Account Settings…" button
You will se a box pop up with all green checkmarks (now shown here) when successful. Click the Close button to exit the test screen.
Now click the Next button at the bottom
Click the Finish button