Upgrade Your Internet Experience (Home & Office)
Colorado Valley Communications' Managed WiFi platform enables a better internet networking and usability experience for you, your household or small business.
We monitor, manage and measure to help you:
Improve overall internet experience and service satisfaction
Determine the optimal bandwidth based on actual usage and behavior
Identify weak signals and adjust access points to strengthen signals
Monitor and manage your WiFi network to maintain high performance
Customer app allows the homeowner to monitor their network
Customer app provides parental controls to set limits on WiFi usage
We don't see your activity…only your connectivity.
Factors Affecting WiFi Performance
Several factors can impede WiFi signal strength which can negatively impact broadband speeds received over wireless devices throughout your home, farm, small business and more.
Physical obstructions (walls, doors, floors)
Network range and distance between transmitter and devices
Wireless network interference (household electronics, baby monitors, cable modems)
Bandwidth and signal sharing
Number of devices – security cameras, smart phones, gaming consoles, streaming video, smart appliances, tablets, laptops and other cloud-based devices all use bandwidth
Simultaneous users, family members and friends
Demand – all devices in the home that access the internet share bandwidth
We provide installation, service and support for low monthly fee. Contact us today to discover the WiFi benefits for yourself.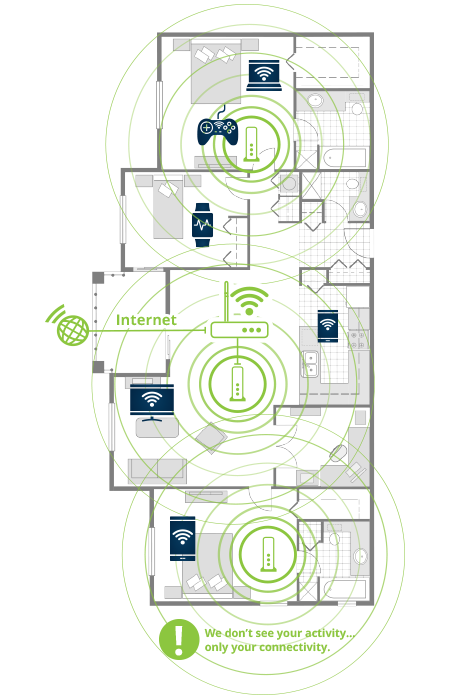 Includes two (2) access points
$9.99 month
Each additional access point (up to 8): $5.99 month
Installation Fee: $19.99
*Available to residential and small business customers. 2-year minimum term. No minimum speed required.
What is WiFi?
WiFi, or wireless connectivity, is the technology that allows a PC, laptop, mobile phone, tablet and other smart devices to connect to the internet without the need for a physical wired connection. WiFi technology uses radio signals to transmit information between your WiFi enabled devices and the internet, allowing the device to receive information.