Colorado Valley Communications is adding new website features and navigational tools to give our members-customers a better, smoother user experience. The site upgrades will include restructured and reorganized search functions, with easy to navigate paths to our most popular and relevant pages.
Here's a quick glimpse at some of the high-level upgrades coming soon to the CVCTX website:
 Business vs. Residential Solutions:
We've simplified the path to get information. New sections have been created – Business & Residential Solutions – to help navigate your way around the site. By designating specific pages, businesses and residents can easily discover available products and services that focus specifically on their unique needs.
 Voice vs. Internet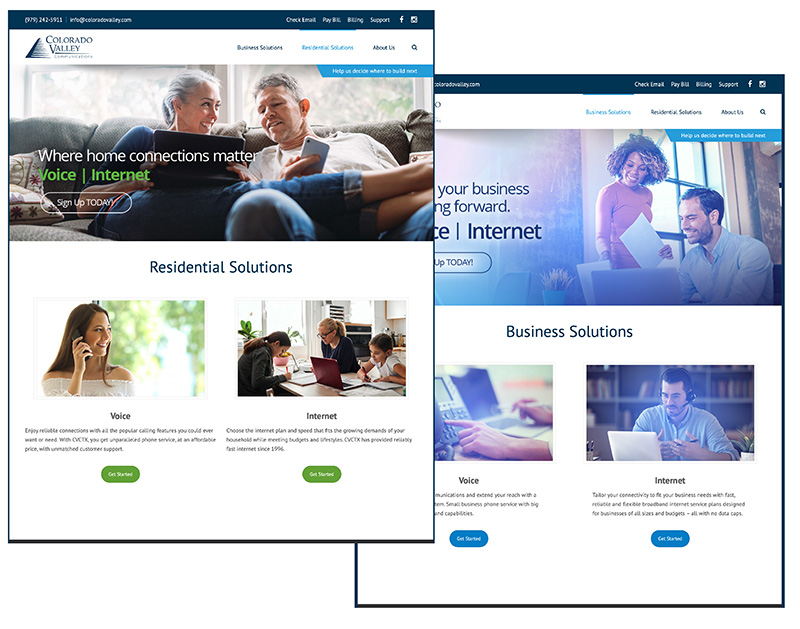 CVCTX offers voice and internet services and now you will be able to search for products and services specifically related to your business or residential needs. Once you choose your path (business or residence), quickly navigate to the service of your choice – Voice or Internet.
 Support Page:
Our new Support page will feature quick links to our most popular information – all in one place. Find relevant data on a wide variety of topics including alerts/notifications, technical support, account information and much more.
CVCTX continues to listen to our members-customers on ways to improve access to our services and  customer information. We are excited about launching our website's facelift in a continued effort to enhance the end-user experience.
We hope you take some time to look around and enjoy the new navigational features and tools.