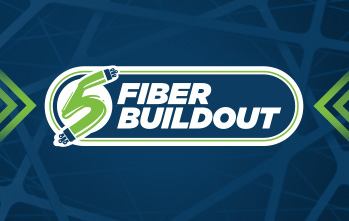 Fiber Buildout
CVCTX has started a five-year construction project to expand our fiber network in our Cooperative service area.
Back to News & Events
Sign up for Customer Alert Information
Sign up for Colorado Valley's Customer Alert email to receive notification before routine maintenance is scheduled or when there is a known outage.
We do try to minimize impacts to the network when performing maintenance, but it does occasionally require some downtime. Weather, power outages and fiber cuts can also affect network availability. With our Customer Alert email notifications, you'll be informed when service will be interrupted, helping you to plan accordingly. If you are having trouble and have not received notice of an outage, contact our 24/7 Technical Support line at 877-452-9035.
Back to News & Events
Power Outages and Backup Power
For customers who don't receive voice service over a copper line, a battery backup solution is needed to maintain voice service during a power outage. Without a battery backup solution or alternate power source such as a generator, voice customers on fiber or fixed wireless will not be able to make calls during a power outage, including emergency calls to 911.
Colorado Valley's optional battery backup solution does not provide power to any services other than voice. Home security systems, medical monitoring devices and other equipment will not run on Colorado Valley's backup battery. It's important to note the battery backup doesn't provide power to a cordless phone, instead a standard corded phone must be connected directly to the modem.
The standard battery from Colorado Valley is expected to last 8 hours on standby power, and additional batteries may be added for up to 24-hours standby time. Proper care and use should be followed as directed by the manufacturer. The batteries will not last forever and should be replaced as directed by the manufacturer.
For more information about the battery backup solution from Colorado Valley, please call 800-242-5911 or email info@coloradovalley.com
Back to News & Events